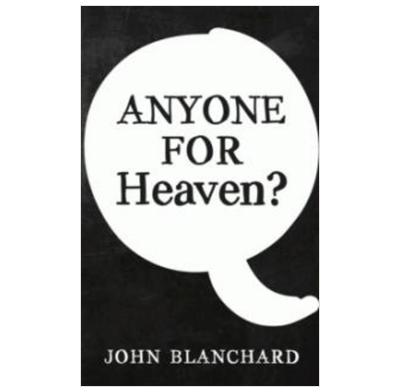 Anyone for Heaven?
A booklet, in plain language, about the truth of eternity and Jesus Christ.
As a friend of mine often reminds people, 'We are not here to stay; we are here to go.'
I am writing these words in a consultant's waiting room in a London hospital. Some of the other patients are showing signs of great physical distress, moving reminders that the whole world is a hospital in which everyone is a terminal patient. The South African surgeon Christiaan Barnard performed the world's first human heart transplant operation in 1967 and the first double–heart transplant in 1974. Later in life he said, 'At 79, people ask me, "Where do you go from here?" I say to them, "I'm on the waiting list. I don't exactly know where I am on that, or where I'm going. But I'm on it".' So are you! Even as you read these words you are fighting a losing battle with death, whatever your age or present state of health. What will happen to you when death wins?
An ideal booklet for buying in bulk to give away for outreach purposes.
Specification
| | |
| --- | --- |
| Author | John Blanchard |
| ISBN | 9781783971909 |
| Format | Paperback |
| Dimensions | 109mm x 178mm x 0.4mm |
| Language | English |
| Pages | 64 |
| Publisher | Evangelical Press |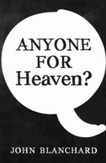 Anyone for heaven? is thought-provoking and deeply moving and I am very happy to commend it strongly.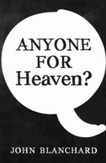 Anyone for heaven? is quite simply superb. John Blanchard's plain and easy to read writing style, his breadth of literary knowledge and his excellent understanding of the human spiritual condition makes this a great read. It should be available in churches around the world and offered especially to people who are spiritually concerned. Keep copies to give away to others, as I hope to do.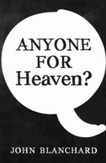 If today you enjoy the digital convenience of e-mail, iPads, smart phones and Facebook, try an internet search for the meaning of heaven and you will not get what you will find here. John Blanchard has once again written a compelling, insightful and thoroughly researched booklet that I cannot recommend highly enough. If you think you know all that there is to know about heaven, think again. This is a masterful handling of the subject, a must read — ''it's easy if you try''.