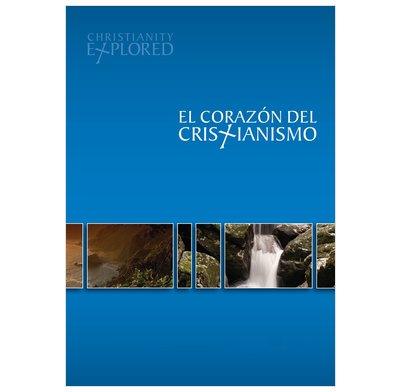 Episodios El Corazón del Cristianismo
Christianity Explored Episodes - Spanish dubbing
Episodios individuales de la galardonada filmación original de "El Corazón del Cristianismo" adaptada al EspañolChristianity Explored weekly talks presented by Rico Tice, dubbed in Spanish
Part of the Christianity Explored series.
Presentado por Rico Tice y filmada en el Reino Unido en estos 10 episodios de video cubren las charlas semanales del curso "El Corazón del Cristianismo". Cada episodio tiene una duración de unos 20 minutos y cuenta con el texto bíblico en pantalla y preguntas para discusión en grupo.
Presented by Rico Tice and filmed on location throughout the UK these 10 video episodes cover the weekly talks from the Christianity Explored course. Each episode lasts for around 20 minutes and features on-screen Bible text and questions for group discussion.
Contents
Lista de programas / Programme listing:
1: Introducción / 1: Introduction
2: Jesús: ¿quién era? / 2: Jesus – who was he?
3: Jesús: ¿por qué vino? / 3: Jesús – why did he come?
4: Jesús: su muerte / 4: Jesús: His Death
5: ¿Qué es la gracia? / 5: What is Grace?
6: Jesús: su resurrección / 6: Jesús – His Resurrection
7: ¿Qué es ser cristiano? / 7: What is a Christian?
8: La vida como cristiano / 8. Continuing as a Christan
9: Decisiones: Herodes / 9. Choices – King Herod
10: Decisiones: Jacobo, Juan y Bartimeo / 10. Choices – James, John & Bartimaeus
Free extras
Specification
| | |
| --- | --- |
| Author | Christianity Explored |
| Format | Digital Download |
| First published | August 2013 |
| Language | Spanish |
| Publisher | The Good Book Company/CE |