If I were God - I'd end all the pain
Struggling with evil, suffering and faith
Can we still believe in God in the face of all the suffering and pain in the world?
- A child catches a rare brain virus and is affected for life.
- A father dies in a plane crash.
- A dictator murders millions.
Why doesn't God do anything about the things like this? Why does He allow them to happen? In fact, can we still believe in God in the face of all the suffering and pain in the world?
In the first of a new series of books, John Dickson looks honestly at these questions, and provides some compelling answers. He looks briefly at the alternative explanation for suffering provided by Hinduism, Buddhism, Islam and Atheism, before turning to what the Bible itself says about God, justice and suffering.
John Dickson's previous books about Christianity have been best-sellers throughout Australia and the UK. The warmth and humour of his writing, and the straight forward clarity of his ideas, have endeared him to thousands of readers. As well as being an author, John has a busy life speaking about the Christian message in churches, schools and universities all over his native Sydney and beyond. And just for fun in his spare time, he is doing a PhD in ancient history. According to him, however, his finest achievements are marrying Elizabeth and raising Joshua and Sophie.
Contents
Introduction
1 The last one standing
2 The Alternatives
3 Invitation to Doubt
4 The Justice of God
5 The Renewal of All Things
6 The Wounds of God
Extras
Specification
| | |
| --- | --- |
| Author | John Dickson |
| ISBN | 9781876326371 |
| Format | Paperback |
| First published | January 2004 |
| Dimensions | 128mm x 197mm x 6mm |
| Language | English |
| Pages | 80 |
| Publisher | Matthias Media |
If I were God - I'd end all the pain
Dave McDonald, Macarisms, May 26th 2012
This book also highlights the biblical perspective that God hasn't given up on this world. He promises an eternal future for all who put their confidence in Jesus Christ. Contrary to the popular notion of heaven, where people are seen as disembodied souls separated from physical existence, the Bible speaks of a new physical creation.... continue reading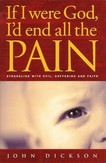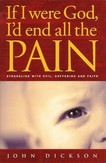 "Excellent"
Excellent. Great book to give to non Christians. Very helpful.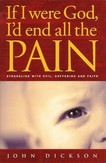 "Very helpful."
Very thought provoking. Doesn't include Christian 'jargon' and so is suitable to giving to non Christians. Gives the perspective of each of the major relions on suffering before coming to what the Bible says.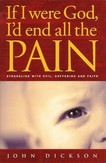 "Succinct, readable and sensitive: excellent"
I have used many ideas from this book with patients of differing worldviews. They have confirmed the way it portrays their ideas on suffering. It has helped me understand how they respond to illness and given me ways of introducing a Christian understanding of suffering and hope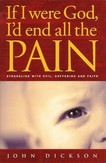 "A fantastic book for Christians and searchers alike"
This book is ideal for both Christians and as an evangelsitic tool. I took a huge amount from it myself and have used it amongst many friends in the University environment.

A very well articulated and written response to a particularly challenging question, with an open, endearing and credible stlye.

I would highly recommend it to all.