A Foot in Two Worlds
The joy and struggle of the normal Christian life
Why do many believers find the Christian life both a joy and a struggle. John Chapman shows us the Bible's answer.
The Christian life is good - really good. It's a life of forgiveness and freedom and fellowship and joy.
But the Christian life can also be genuinely hard. Sickness and suffering still come our way. Sinful habits from the past still dog our steps. Sometimes it feels like an endless grind.
Why is this? Is it meant to be this way? Is there any solution?
In this masterful little book, John Chapman answers these pressing questions by drawing on his profound knowledge of the Bible, and his 60 years experience living as a Christian.
Contents
1. Christianity is not for wimps
2. This present world
3. The world to come: the new creation
4. A foot in two worlds
5. Relieving the tension
6. Living positively with the tension
7. Keep your eyes on the goal
Extras
Specification
| | |
| --- | --- |
| Author | John Chapman |
| ISBN | 9781921441349 |
| Format | Paperback |
| First published | February 2009 |
| Dimensions | 128mm x 198mm x 8mm |
| Print size | 10pt |
| Language | English |
| Pages | 96 |
| Publisher | Matthias Media |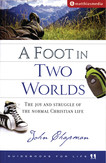 "Refreshing! "
Gets straight to the point and is very true to the everyday life of a Christian.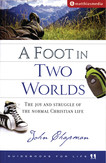 "Encouragement to press on with living for Christ"
The title expresses the central message of this very readable book - that normal Christian living includes the enjoyment of our heavenly citizenship alongside the difficulties of living in a fallen world.

John Chapman considers why this is so, outlines what is means for our lives as Christians, and explains how we can cope with the tension of straddling two domains.This is light-touch doctrine with biblically grounded practical wisdom.

I wondered for whom the book was intended. Certainly it would be valuable for any newish Christian (perhaps late-teens or twenties). The study questions would be useful for five sessions of discussion. But the book speaks practically to any stage of the Christian life. It offers us all challenge and warm encouragement to press on toward the world to come.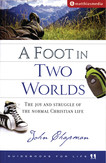 "Refreshingly honest "
I found this book a help and a good reminder of Biblical truth at a time of discouragement. John Chapman with all his infectious enthusiasm and humour acknowledges that living the Christian life can often feel like a hard slog. Rather than thinking we must have missed out on something if we feel like this we can remember we are in a battle but we have a great God who uses all things to make us more like Christ.