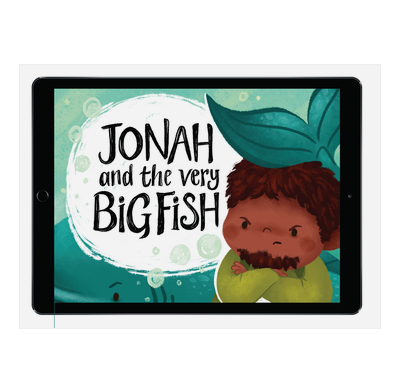 Download the full-size illustrations - Jonah and the Very Big Fish
Get the full colour, full size illustrations to use in presentations
Get the full colour, full size illustrations to use when reading Jonah and the Very Big Fish to large groups
Part of the Very Best Bible Stories series.
Full colour, full size illustrations from Jonah and the Very Big Fish that can be projected onto large screens and used when reading the storybook to large groups so that everyone can see them.
Perfect for use in groups with children aged 3-6 years old. Simply add to basket and the link to download will appear in your confirmation email upon purchase.
You will need to purchase the storybook separately in order to read the story.
Help children 2-5 years old to discover that God is kind and loving and longs to save people with the story of Jonah and The Very Big fish.
Specification
| | |
| --- | --- |
| Age range: | 2 - 6 |
| Author | Tim Thornborough, Jennifer Davison |
| Format | eBook |
| Language | English |
| Pages | 24 |
| Publisher | The Good Book Company |
"Great"
We enjoyed going through this book with both my children and some of the children in our Toddlers group. It opens up the story by driving home the point with all the synonyms.
"Great!"
Brilliant illustrations, really helpful to share this amazing story. The story is helpfully placed within the bigger narrative of the Bible and these images help support that!