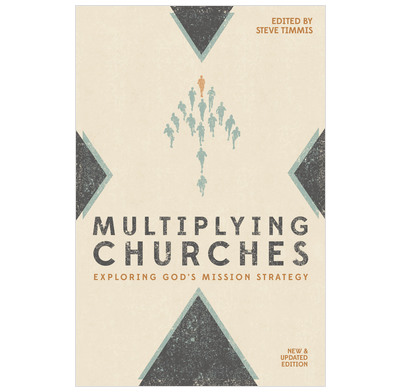 Multiplying Churches
Exploring God's Mission Strategy
A book written by those involved in Acts 29, to encourage, challenge, comfort, rebuke, inform and equip.
For many church leaders, struggling to cope with internal problems, church planting does not even appear on the agenda of things to be considered. But - how do we reach this lost generation in which we have been placed? Multiplying Churches, written from Acts 29's years of experience, unpacks how church plants can be used not only to reach people with the Gospel, but to encourage an entire church family to be actively involved in doing so. This serves as a timely reminder that mission needs to be our identity rather than our event.
Note: This book is not an updated version of the book published in 2000. The core convictions remain the same and some material has been reused. But most of the content is new. That's because we've learnt important lessons. But it's also because we face new challenges today.
Contents
Preface
Contributors
1. Let there be light: church planting and the story of the Bible — Tim Chester
2. Let us make mankind: church planting and the story of creation — Henri Blocher
3. You will be my witnesses: church planting and the story of the church — Steve Timmis
4. Motive: Grace-filled church planting — Matt Chandler
5. Method: Word-centred church planting — Reuben Hunter
6. Means: Spirit-empowered church planting — Matt Chandler
7. Multi-ethnic: culture-transcending church planting — One Mokgatle
8. Men planting churches — Steve Timmis
9. Women planting churches — Ruth Woodrow
10. Conclusion — Steve Timmis
Specification
| | |
| --- | --- |
| Author | Steve Timmis |
| ISBN | 9781781913246 |
| Format | Paperback |
| First published | December 2016 |
| Dimensions | 130mm x 198mm x 11mm |
| Language | English |
| Pages | 192 |
| Publisher | Christian Focus |
From the heights of biblical theology, to the plains of who does what, these brief chapters are again and again both practical and wise. I happily commend this book.
Fifteen years ago, the church planting movement was in its infancy. Today, many things have been learned but new challenges lie ahead. Therefore I am glad for the new edition of this book, in which those early lessons can be reviewed and the new horizons faced.
This is not another "how to" book. The authors fully recognise the unique centrality of the church in God's purposes. I hope its intention of stirring us to radical thinking and acting will be fully realised.