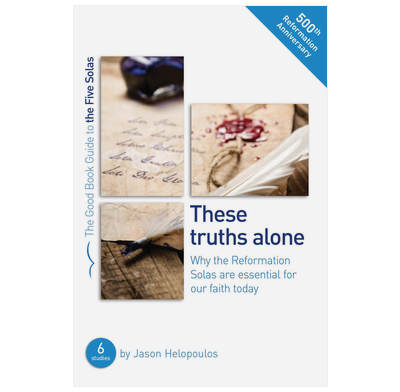 The Five Solas: These truths alone
ebook
Why the Reformation Solas are essential for our faith today
Six studies that introduce each of the Five Solas of the Reformation and connect them with our faith today
Part of the Good Book Guides series.
500 years ago the Reformation transformed Europe by the rediscovery of five key Bible truths. Summarized as the Five Solas, they set the church on a renewed path of faithfulness.
Many Christians today are once more ignorant of the Five Solas. This Good Book Guide helps us rediscover these essential Reformation teachings and connect them to our faith today.
Special offer: receive a free poster of the Five Solas when you buy this Good Book Guide, or when you buy 90 Days in Genesis, Exodus, Psalms, Galatians - a 90-day devotional exploring God's word with the Reformers.
FAQ for using digital Good Book Guides
Can I print the PDF?
Yes, for your own personal use.
Can I share the PDF with other members of my home group?
No, each member needs to buy their own copy.
Can I share individual studies with my home group?
No, each member needs to buy their own copy.
Can I buy copies for my group members and email it round?
Yes, once you've purchased enough copies for each group member, you can download the file and email it directly to them. Please ask them not to distribute further.
Is there a discount for buying a group license?
Yes, bulk discounts are available and reflected in your basket.
Contents
1. Sola Scriptura: by Scripture alone
2. Solus Christus: by Christ alone
3. Sola Gratia: by grace alone
4. Sola Fide: by faith alone
5. Soli Deo Gloria: glory to God alone
6. (Summary session)
Specification
| | |
| --- | --- |
| Author | Jason Helopoulos |
| Format | eBook |
| First published | June 2020 |
| Language | English |
| Publisher | The Good Book Company |