Gospel Patrons
People Whose Generosity Changed The World
Stories about people whose generosity changed the world and the part we can play in the stories yet to be written.
The great movements of God in history were often led by well-known preachers and pioneering missionaries. But few of us have heard the behind-the-scenes stories of the men and women who partnered with them, funded them, and became the catalysts for many amazing works of God.
This book takes us inside three stories from history to show how great movements of God happen and how we can:
• Find our parts to play in God's kingdom
• Give our lives to the things that matter most
• And live for a legacy that we can look back on and be proud of
Gospel Patrons is ultimately about two very important questions: First, How has God worked through people to change the world? And second, How do we become those kind of people?
Contents
Foreword
1 The Discovery
2 The English Bible
3 The 18th-Century Revival
4 The Resurgence of Evangelical Churches
5 The Gospel of Gospel Patronage
6 The Real Business of Life
Afterword
Acknowledgements
About The Author
Free extras
Specification
| | |
| --- | --- |
| Author | John Rinehart |
| ISBN | 9781496115478 |
| Format | Paperback |
| First published | July 2015 |
| Dimensions | 140mm x 216mm x 17mm |
| Print size | 9pt |
| Language | English |
| Pages | 176 |
| Publisher | Reclaimed Publishing |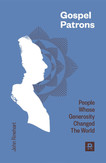 Rico Tice, evangelist
We are know the names William Tyndale and John Newton, but we don't know the names Humphrey Monmouth and John Thornton, the men who under God earned the money that financed their great works. I was deeply moved by the heart and choices of these benefactors and have sent 20 copies of this book to men with means, who I pray will be similarly inspired.
"Inspiring and highly recommended"
Gospel Patrons was recommended to me and it was inspirational. I tend to study books, underline passages and mark in the margins. I completed it over two part-days and have pass it on to two other people. The first completed it in one sitting. It clearly shows how inspired patrons can fund God's work through inspired preachers and evangelists. A vital book for your library. You'll soon be telling others about it.
"Inspiring and humbling"
John Rinehart's 'Gospel Patrons' is an accessible, very readable, biblical, well researched and inspiring book on the generosity of God's people to give to God's work. This is a timely reminder that gospel ministry is never about one strong personality but a partnership of prayerful and generous Chrisitans willing to give all they have for the sake of proclaiming the gospel and giving God the glory. Newton (& later Wilberforce) would have been ineffective without the support of John Thornton. Lady Huntington remains an inspiring example of gospel entrepreneurship and wise stewardship. The courageous example of Humphrey Monmouth, the merchant willing to count the personal cost to support Tyndale, is brought to life by John Rinehart's engaging narrative.
The stories are inspiring and humbling but don't skip chapters 5 & 6. John Rinehart skilfully applies the gospel and brings the focus on the centrality of Jesus Christ to motivate change in our hearts about our own stewardship and generosity towards gospel work.
This book is a terrific encouragement and resource not just for anyone involved in raising funds for gospel work but to inspire God's people to rediscover the joy and freedom of being generous gospel patrons.