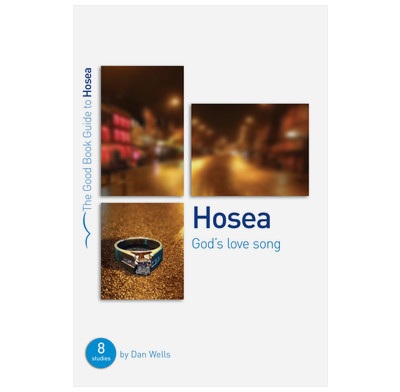 Hosea: God's Lovesong
ebook
8 studies for individuals or groups
Be thrilled, excited and challenged by God's unconditional, and surprising, love for his people.
Part of the Good Book Guides series.
Hosea is a love song, with a difference.
Love songs are everywhere. On the radio; on movie soundtracks; in the background as we shop and eat out. They're often stuck in our heads and hearts, too.
And yet their lyrics are full of desire leading to disappointment, and hope followed by heartbreak. Love songs reflect our yearning for a love that is solid and sure; and they expose our inability to find it.
The book of Hosea is a love song. But uniquely, its lyrics are about a love which will never fade; which will never disappoint; and which will never say: "Enough". The singer throughout Hosea is God: and the love He talks about is His own love, lavished upon His people. It's a love song that is surprising, raw, emotional, at times uncomfortable, but always compelling.
These eight studies will thrill you with the wonder of God's love, even as they challenge you with the truth about His people. And, as you read through Hosea, you'll be provided with a soundtrack for your life which truly is worth singing along to.
FAQ for using digital Good Book Guides
Can I print the PDF?
Yes, for your own personal use.
Can I share the PDF with other members of my home group?
No, each member needs to buy their own copy.
Can I share individual studies with my home group?
No, each member needs to buy their own copy.
Can I buy copies for my group members and email it round?
Yes, once you've purchased enough copies for each group member, you can download the file and email it directly to them. Please ask them not to distribute further.
Is there a discount for buying a group license?
Yes, bulk discounts are available and reflected in your basket.
Contents
Why study Hosea?
Timeline
1. Unfaithful (Hosea 1 v 1 – 2 v 1)
2. If you leave me now (Hosea 2 v 2 – 3 v 5)
3. D.I.V.O.R.C.E. (Hosea 4 – 5)
4. Sorry seems to be the hardest word (Hosea 6 – 7)
5. Reap the wild wind (Hosea 8 – 10)
6. Never going to give you up (Hosea 11)
7. History repeating (Hosea 12 – 13)
8. Return to me (Hosea 14)
Leader's Guide
Specification
| | |
| --- | --- |
| Author | Dan Wells |
| Format | Digital files |
| First published | June 2020 |
| Print size | 0.00000000pt |
| Language | English |
| Publisher | The Good Book Company |
Other information
The Good Book Guides have been developed to ensure that each session not only seeks to uncover the meaning of the passage and see how it fits into the big picture of the Bible, but also leads people to apply what they have learnt to their lives. Flexible and practical, the Good Book Guides are ideal for small groups, or individual study.
The format is very user-friendly and the content is rich and accessible.
- Justin Taylor, Gospel Coalition blogger and Vice-President of Editorial, Crossway
God-centered, application-oriented, and driven by the text throughout, this resource is a gift to God's church.
- Matt Smethurst, Gospel Coalition reviewer and Master of Divinity student at The Southern Baptist Theological Seminary
Here at Covenant Life Church, we have greatly benefitted from the small group resources from The Good Book Company. Many small groups in our family life ministry have used "Colossians: Confident Christianity" in their study of scripture. Additionally, our youth ministry has used "Romans 1-5: God and You" in their small groups. Both resources were very easy to use, helped the reader engage directly with the scriptures, and had a wonderful pastoral emphasis demonstrated in all the questions.
- Dave Brewer, Youth Pastor at Covenant Life Church, Maryland