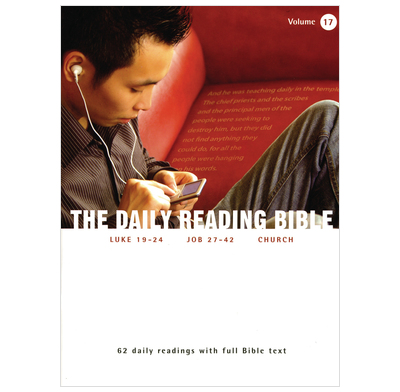 The Daily Reading Bible - Volume 17
Luke 19 & 24, Job 27-42, church
62 readings on Luke 19-24, Job 27-42 and Church.
The Daily Reading Bible is an all-in-one resource and a good way to get started or keep going in your daily reading of the Bible.
This seventeenth volume contains 62 readings on Luke 19-24, Job 27-42 and Church. Each reading is designed to take around 15-20 minutes and contains:
- the full text of the Bible passage for that reading
- some questions to get you thinking
- some 'points to ponder'
- some ideas to get you started in prayer
It's all here in one booklet that you can take with you anywhere - on the train, on the bus, to the park at lunchtime, or to your favourite armchair.
Contents
Introduction
Luke 19-24
Job 27-42
Church
Appendix
Specification
| | |
| --- | --- |
| ISBN | 9781921441295 |
| Format | Paperback |
| First published | February 2009 |
| Dimensions | 150mm x 205mm x 5mm |
| Print size | 8pt |
| Language | English |
| Publisher | Matthias Media |
"Encouraging"
(Review written for 'Daily Reading Bible Subscription (4 issues)')
Found these notes very helpful and the questions are stimulating. Its great to have the bible notes and study helps all in the one book... incidently i got the prayer journal along with it.. really helps me focus and see where i am and encourages me to pray more
"Solid Christian teaching "
(Review written for 'Daily Reading Bible Subscription (4 issues)')
I ordered this resource for a friend who became a Christian last year but has struggled to get into daily Bible reading. These notes are ideal, given they are not dated, because you can read them at your own pace. My friend is a carer and is thus under time pressure. Having the Bible passage printed in the notes means she can easily pick it up when she has small windows of opportunity.
I felt totally at peace in giving them to my friend, knowing they contain sound and solid Christian teaching. A real gift.
"Helpful and challenging"
I am enjoying using these notes, after many years of using Scripture Union material and Bible speaks today commentaries. It is useful to have the text for when you are out of your home with the notes, and I find the questions stimulating and helpful. It is useful to have the spaces to write in the answer, as this helps to keep you disciplined in your Bible study!
"Practical and thoughtful"
This is a very good book that enhances personal devotional time. The questions are often thought-provoking but never too challenging - there is always food for thought.

Personally, I read this with a commentary to help develop my understanding of things when answering the questions; sometimes I need that extra something to guide me in a different direction. What limits my rating on the book, is the small space given to answer the questions and the Bible reading could be shorter to enable the reader to focus on the specific theme/text the questions ask about. I think a small reflection on the Bible reading would be a useful addition, but as an overall comment - very good, practical and helpful.
"Excellent!"
This is a really handy Bible reading guide. It makes you read, think and pray, even if you don't have long to do it. This has helped me to stick to regular Bible reading.
"great study notes"
Perfect for fairly new christians and people who commute...
"Really helpful..."
As someone who loves the Lord and wants to read the Bible studying it and doing a regular quiet time is something i find difficult!
These studies are really great because they have all you need....the Bible verses, extra verses as footnotes or appendices, space to write notes and some questions to get you thinking.
I also like the box at the beginning where you can write peoples names tjat you want to oary for and at the end of the days study there is a point to ponder and a prayer suggestion.
It is still something I struggle with but these studies have really helped me and continue to do so.
"very good for busy mums"
I read mine during the quiet ten minutes I get in the early morning while breastfeeding; all the text on one page is perfect and often that early in the morning it's helpful to have pointers for prayer and reflection later in the day.
"A great solid bible bassed resource."
I have struggled to find a solid bible based daily bible study resource, a while ago I picked up a couple of Daily Bible Reading Booklets at a conference and found them useful.

Each study can take around 20 minutes, the passage is on the page (enabling you to use them easily at work or on the train) with a couple of solid questions - this isn't David and the 'what do the stones mean to you' stuff, these are appliable questions.
"excellent format for daily bible study"
Having had a real guilt problem over my inability to read the bible every day, this 'no date' format has helped greatly. Also being a very portable book means I really can use this wherever and whenever.
The bible has come alive for me again, and I really look forward to my quiet times when I can study Gods' Word.