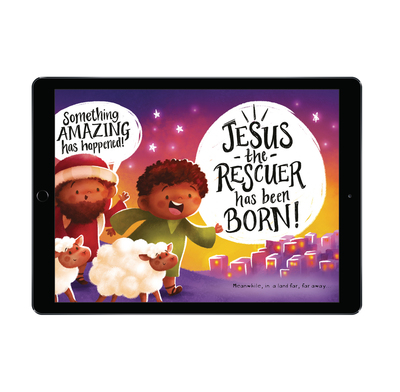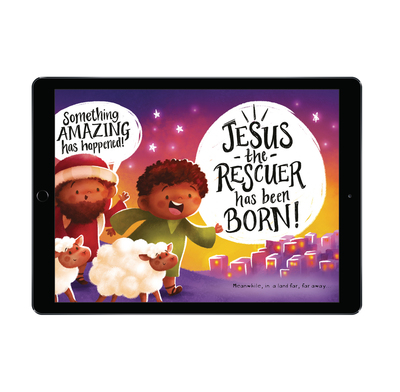 Download the full size Images - A Very Noisy Christmas
Get the full colour, full size images to use when reading to large groups
Full size images of the awesome illustrations in A Very Noisy Christmas to use on big screens. Together with the storybook these images allow you to read the story while showing the pictures on a large screen so that everyone can see them.
Perfect for use in groups with children 2-6 years old. Simply add to basket and the link to download will appear in your confirmation email upon purchase.
A Very Noisy Christmas is a fun and fresh retelling of the Christmas story comes with an invitation to join in—both noisily and quietly! Young children can enjoy getting involved as they hear how Jesus was born so that we can be friends with God.
Specification
| | |
| --- | --- |
| Age range: | 2 - 6 |
| Author | Tim Thornborough, Jennifer Davison |
| Format | Digital Download |
| First published | September 2018 |
| Language | English |
| Publisher | The Good Book Company |

"Great Book for little children"
(Review written for 'A Very Noisy Christmas')
A fantastic well written and well illustrated children's book about Christmas. We have added this to our Churches Creche reading set and are looking forward to seeing it being used more frequently towards Christmas season

"Fantastic"
Used the story and visual for our nativity service. Children loved joining in with the Sssh! and the adults read aloud using the slides the words in bold.

"Excellent"
This is the second time we have used a Christmas story book w at our Crib service to give a fresh and interactive version of the Christmas story. We projected the downloadable images, had a narrator and some actors to be the shepherds/angels/wisemen (changing costumes quickly) and the congregation joining in the with the 'Shhhh' etc. It was great!

"Great resource for a family service"
Used the book and the downloadable PDF pictures for 'Jesus' Birthday Party' event. It made a great way of sharing the Christmas story in an interactive way...lots of noise was made!

"Great book for young children"
(Review written for 'A Very Noisy Christmas')
This is a bright, well-illustrated book with a fun way of getting across the message of Christmas to young children. Highly recommended.

"Nursery kids loved it"
(Review written for 'A Very Noisy Christmas')
I used this for our local school nursery kids and they loved it. The combination of loud and soft - and repeating the loud words especially kept them very engaged. The nursery teacher loved it too and wanted a copy for herself - she now has mine - I'll be back next Christmas!

"Great book for little ones"
(Review written for 'A Very Noisy Christmas')
I bought this book with my 2 and 4 year olds in mind and they loved it. You read some bits quietly and some bits loud which they found entertaining!

"Excellent book for explaining Christmas"
(Review written for 'A Very Noisy Christmas')
I wanted a children's book as a gift for parents and young children to read at our parents and tots group and was impressed by the tone and content of this book. It presents the Christmas message clearly in a fun way and is illustrated very well. The books were delivered very promptly. Thank you very much

"Great for toddler"
(Review written for 'A Very Noisy Christmas')
My 2yo loves it and refers to it as the 'Ah...Angel' book. A Sunday School teacher adapted it with the help of older children to tell the Christmas story to a group of 3-9yo and it was very engaging for the older children. (We are an English speaking church in the majority world)

"Brilliant!"
(Review written for 'A Very Noisy Christmas')
We have just used "A very Noisy Christmas" (turning it into a script for 2 storytellers, with the illustrations on powerpoint) at our toddler group carol service - it was great at engaging the children (pre-schoolers) as they particpated well with storytellers' "Shhhhhh"s and "WOW"s and heard the Christmas story of rescue in an exciting way. The guests have all taken a copy of the book home to read again with their families. Thank you for this resource... I imagine we'll be doing the same thing again next year!