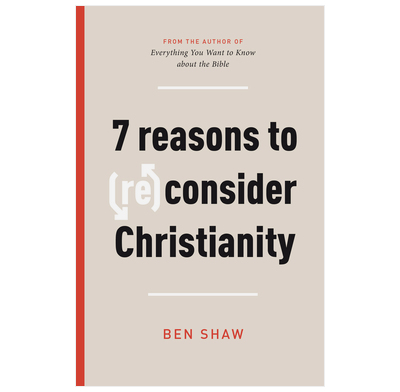 Seven Reasons to (Re)Consider Christianity
ebook
Outlines why Christianity is worth considering or reconsidering.
Lots of people assume that Christianity is simply a nice story for kids or a niche hobby for weirdos—or worse, unattractively restrictive.
In this book, Ben Shaw invites sceptical readers to think again. He outlines seven reasons why Christianity is something worth considering—or considering again—rather than dismissing out of hand.
This warm, honest book shows that the Christian message is both more credible and more wonderful than we might have otherwise thought, and calls readers to investigate the person of Jesus for themselves.
Contents
Introduction
1. Because it's worth thinking through what life is really all about
2. Because the Christian faith more intellectually credible than you think
3. Because Christianity is about life to the fullest
4. Because Christianity gives a compelling assessment of what's wrong with the world
5. Because Jesus is arguably the most influential person who has ever lived
6. Because the death of Jesus is actually surprisingly good news for you
7. Because if Jesus really did rise from the dead, then it confirms everything
What next?
Specification
| | |
| --- | --- |
| Author | Ben Shaw |
| ISBN | 9781784986353 |
| Format | eBook |
| First published | May 2021 |
| Language | English |
| Pages | 144 |
| Publisher | The Good Book Company |