Hanging In There
If you're new to christianity or a long-serving Christian who could use a bit of encouragement, this book is for you.
Hanging in There is a book about God, you, the Bible, prayer, church, relationships, sex, feelings, doubts, love and, above all, 'hanging in there' as a Christian. If you're new to the Christian Faith or a long-serving Christian who could use a bit of encouragement, this book is for you.
Contents
1. Clearing the Confusing
The 'how' and 'what' of a Christian
2. Rule no.1
God loves you heaps!
3. God in a book
Making sense of the Bible
4. Finding God in the book
Getting the most out of the Bible
5. "Um... God?"
About prayer
6. Church
What? Why? Which?
7. "Our kid's gone weird"
Living with parents who aren't Christians
8. Missionary dating
Romance with a non-Christian
9. Too much too young
About sex and stuff
10. When you feel like a dog
Can you trust how you feel?
11. I believe, I think!
the dilemma of doubts
12. The devil and co.
About satan, demons, etc
13. Plugged into God
About the Holy Spirit
14. Bible bashing
How not to
15. My biggest mistake
Living Horizontally
16. Hanging in there
The key to remaining a Christian
17. Appendix: Promises, promises
Free extras
Specification
| | |
| --- | --- |
| Age range: | 14 - 18 |
| Author | John Dickson |
| ISBN | 9781875245680 |
| Format | Paperback |
| First published | January 2004 |
| Dimensions | 155mm x 215mm x 12mm |
| Language | English |
| Pages | 126 |
| Publisher | Matthias Media |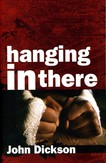 "Excellent starter book for the new young christian"
An excellent book for the young christian wanting to perswevere with the faith. Bought as a confirmation present on several occasions, the book tackles commonly asked questions and issues facing teenagers today. John Dickson is homourous and easy to read but rooted in the Bible, so what he says is trustworthy.