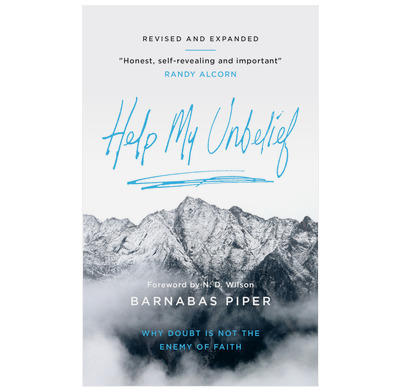 Help My Unbelief
ebook
Why doubt is not the enemy of faith
How doubt can lead to greater faith.
In this book, Barnabas Piper unpacks what faith really means. He shows how embracing doubts and questions can help us to get to know God better, and he encourages us to trust God in our everyday lives, even when we don't understand everything about him.
This book will encourage Christians seeking to ask questions in a godly way and will give them confidence to trust God, even when some questions remain.
This revised and updated edition includes biographical stories about Afshin Ziafat, C.S. Lewis and John Piper.
Contents
Foreword by N.D. Wilson
Introduction
1: Tension
2: What is Belief?
3: What Can We Know About God?
4: A Prayer from Where?
5: Unbelief and Doubt
6: Belief in Action
7: How Do We Believe?
8: So What and What Now?
Afterword
Appendix 1: Reading the Bible to Meet God
Appendix 2: Suggested Reading
Specification
| | |
| --- | --- |
| Author | Barnabas Piper |
| ISBN | 9781784985080 |
| Format | Digital Download |
| First published | January 2020 |
| Language | English |
| Pages | 176 |
| Publisher | The Good Book Company |
Sometimes believers can give the impression that the Christian life is always one of triumph and confidence. This book by Barnabas Piper counsels us on how to trust God when our faith is weak and wavering. It calls us away from a demon-like faith that simply knows the data about God, to a childlike faith that cries out, 'I believe; help my unbelief.' If you find yourself doubting, or if you love someone who doubts, this book will refresh and encourage.
Barnabas Piper's Help My Unbelief is an honest, self-revealing, and engaging treatment of an important subject. This winsome and well-reasoned book avoids clichés and easy, superficial answers. It will benefit many—including those who doubt, those who 'sort of' believe, and those who believe yet long to do so more completely.
In Help My Unbelief, Barnabas Piper makes a clear and compelling case for faith amid the sea of doubts many experience in Christianity. It's a necessary book for our generation.