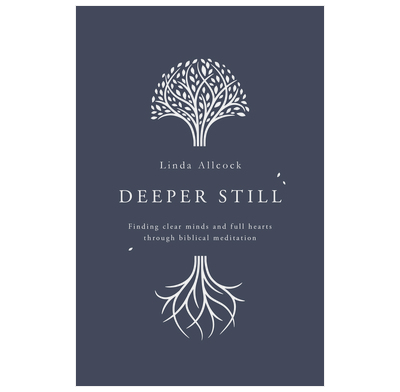 Deeper Still
ebook
Finding Clear Minds and Full Hearts through Biblical Meditation
Finding clear minds and full hearts through biblical meditation.
We live in a fast-paced world, and our minds are working in overdrive. Mindfulness promises a method of tuning out the voices for a few minutes to live in the moment. Biblical meditation offers something better: an opportunity to be transformed by God's voice of truth.
Psalm 1 says that the person who delights in God's word and meditates on it day and night is like a "tree planted by streams of water". Linda Allcock gives us a framework to help us slow down and dwell deeply on God's word so that it clears our minds and fills our hearts, making a real difference to the way we live.
This book will help Christians who feel overwhelmed by their thought life, as well as those who want to go deeper in their devotional life.
Full of down-to-earth anecdotes and practical advice, this warm and accessible book is designed to help make biblical meditation part of your everyday life.
Contents
Section 1: Still Your Mind
1. He, Not Me
2. Source, Not steam
3. Be, Not Do
Section 2: Fill Your Heart
4. Lord
5. Look
6. Turn
7. Learn
Section 3: Feed Day and Night
8. Awakening Delight
9. Growing Obedience
10. Standing through Storms
Specification
| | |
| --- | --- |
| Author | Linda Allcock |
| ISBN | 9781784985479 |
| Format | Digital Download |
| First published | September 2020 |
| Language | English |
| Pages | 160 |
| Publisher | The Good Book Company |
All of us could do with slowing down. That's true for life in general and for our time in God's word in particular. We all want to make progress with Jesus, of course, but paradoxically it is by going slower with his word that we will make the fastest progress with him. Linda's book is a searching and timely call to meditate on God's word, explaining clearly and carefully what that means and offering up a practical framework to do it well. She is honest about the struggles of finding time for the Scriptures but ambitious about the delight we can discover there. Don't rush past this one.
Engagingly written and inspiringly simple, Deeper Still is a wonderfully clear and practical guide to engaging more fully with God through his word.
Deeper Still is a wonderfully encouraging, terrifically insightful and stunningly simple book. It is written to help us to find eternally satisfying nourishment through our daily encounter with the Lord in his word. As well as offering a simple framework to the reader to follow in achieving this goal, it is also honest, realistic and frank about the challenges there are. Deeper Still is also a brilliantly written and at times profoundly personal book. No matter where you are along your Christian journey, this book will be more than worth your time.