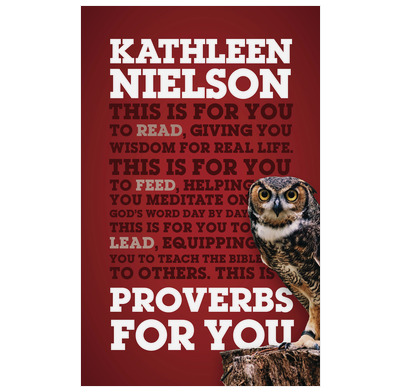 Proverbs For You
ebook
Giving you wisdom for real life
Divine wisdom for your everyday life from the book of Proverbs.
Part of the God's Word For You series.
In the Proverbs, God offers us wisdom for real life and he shows us Jesus, who was wisdom personified and exemplified.
This accessible, absorbing expository guide to the Proverbs by Kathleen Nielson brings these ancient sayings to life, helping ordinary Christians to see what it can look like to enjoy living in line with God's wisdom in the great multitude of everyday situations and decisions we face.
This book gives an expository rather than topical treatment to the book of Proverbs, so it can be read as originally intended. It also has more application than a typical commentary, making it a great resource for personal devotions, as well as useful for leading small-group studies or sermon preparation.
There is an accompanying Good Book Guide available.
Contents
1. Meeting Wisdom
2. Instructions and Interludes
3. Two Paths
4. Women Calling
5. Ready for the Proverbs?
6. Two Trajectories
7. The Lord at the Center
8. More of Solomon—the Same, But Different
9. The Solemn Remainder
10. The Thirty Sayings of the Wise
11. The Truth and the Righteous
12. Pray to God and Listen to Your Mother
13. Wisdom Lived
Specification
| | |
| --- | --- |
| Author | Kathleen Nielson |
| ISBN | 9781784984298 |
| Format | Digital Download |
| First published | August 2020 |
| Language | English |
| Pages | 224 |
| Publisher | The Good Book Company |
Refreshing to my Soul
Bookish!, September 8th 2020
Overall, I found the book to refresh my soul. There is tremendous wisdom in the book of Proverbs and if we listen carefully, we too can gain this wisdom. Kathleen Nielson is a reliable guide lighting up this path of wisdom, showing us the relevant themes of the book and applying these truths to the modern reader. The God's Word for You series is building up a solid reputation with its reader-friendly and practical books. This book is no different and I am very glad to commend it to you. 5/5 stars.... continue reading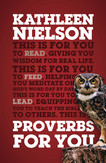 I have spent many years trying to make sense of the Proverbs. While they may easily seem to be random verses, they are actually a cohesive book of unparalleled wisdom.
Aaron Lee, August 11th 2020
While Nielson writes to explain the verses, she does not fail to show us the big picture of Proverbs and how it points to Jesus Christ. As the Bride of Christ, the Church is called to be wise in the world. This book is better than any Study Bible notes. Hear wisdom calling in these words.... continue reading