Where is God in a Coronavirus World?
How belief in a loving and sovereign God helps us to make sense of and cope with the coronavirus outbreak.
We are living through a unique, era-defining period. Many of our old certainties have gone, whatever our view of the world and whatever our beliefs. The coronavirus pandemic and its effects are perplexing and unsettling for all of us. How do we begin to think it through and cope with it?
In this short yet profound book, Oxford mathematics professor John Lennox examines the coronavirus in light of various belief systems and shows how the Christian worldview not only helps us to make sense of it, but also offers us a sure and certain hope to cling to.
Here's why John Lennox wrote the book:
"This book consists of my reflections on what we are experiencing right now. I started writing it a week ago, and things have changed quickly since then and no doubt will do again...I would invite you, the reader, to view the book like this: we are sitting in a coffee shop (if only we could!) and you have asked me the question on the book cover. I put down my coffee cup and attempt to give you an honest answer. What follows is what I would try to say in order to convey some comfort, support and hope."
 
John Lennox is an Emeritus Professor of Mathematics at the University of Oxford and Emeritus Fellow in Mathematics and the Philosophy of Science at Green Templeton College. He is also an Associate Fellow of the Said Business School and an Adjunct Lecturer for The Oxford Centre for Christian Apologetics. He has been part of numerous public debates defending the Christian faith against well known atheists including Richard Dawkins, Christopher Hitchens and Peter Singer.
Contents
Introduction
1. Feeling Vulnerable
2. Cathedrals and Worldviews
3. Can Atheism Help?
4. How Can There Be Coronavirus If There Is a Loving God?
5. Evidence of Love
6. The Difference God Makes
Postscript
Extras
Specification
| | |
| --- | --- |
| Author | John Lennox |
| ISBN | 9781784985691 |
| Format | Paperback |
| First published | April 2020 |
| Dimensions | 110mm x 178mm x 6mm |
| Language | English |
| Pages | 64 |
| Publisher | The Good Book Company |
Also available in
Which of us hasn't been confronted with urgent and deep questions as we have faced the threat of the coronavirus? John Lennox's engaging and profound book will help both committed Christians and the open-minded of any faith or none find answers from the Christian faith that provide both perspective and hope.
In the last few months the world has changed. John has written a number of books but none before in the space of a week, as he has this one. Yet despite its brief gestation, this book puts the coronavirus pandemic into a historical, scientific, theological and personal perspective that will help all of us who are in the midst of this crisis to view the situation though a wider-angled lens.
Warm, thoughtful, and engaging without ducking the issues, John Lennox puts in far better words what so many of us would want to say.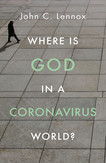 "Book lives up to its title"
This little book is written by a thinking man and a spiritual man. As a street evangelist there are many good points in this book that will help me with those awkward questions on why a so called loving God allows bad things to happen. I finally found time to read it and as I finished it I restarted reading it right away. So much useful information in this little book and the issue of where God is in Corona Virus is examined from every angle. Well worth reading. I recommend it.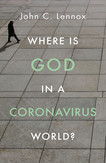 "Helpful insights into the problem of suffering"
Where is God in a Coronavirus World?
Some questions simmer below the surface all the time; when disaster or tragedy strike, they boil up to the top of our minds and we keep asking, Why? Why this suffering? How can a God of love allow this to happen – to me? To them?' We are living in a time when this question won't go away. Professor John Lennox has written this short book to help Christian believers and non-believers think through this perplexing issue. He writes clearly and accessibly, not giving definitive answers – no one can – but sharing insights into this problem which troubles so many, particularly at this time of bereavement, pain and financial struggle. It is well worth reading.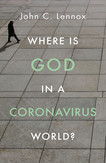 "Much needed"
John lennox''s book relating to covid 19 was sent to me promptly which helped with adapting & coming to terms with a different life style.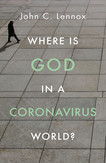 "objective pespective"
It presents an honest perspective not telling us that we have the answer and everything will go very well.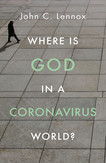 "Excellent"
Imagine sitting down with an Oxford academic who is as friendly as your grandfather. You sip a coffee and ask him where God is in this pandemic.
The answer he gives as you tuck into your cake includes history, theology, stories and compassion.
At the end he takes his glasses off and admits that he hasn't answered everything, that there are still some rough edges.
But, you feel far more hope as he has helped you see something more than panic in the pandemic.
He has helped you see God in the midst of the suffering.
A brilliant response to the current situation. Easy to read in a couple of hours. Suitable for both those with faith and those without.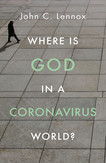 "Great read"
Highly recommend this book to anyone. It brings a biblical prospective on not only covid-19 but on why the world is the way it is. Also John Lennox brings in the gospel, which is the only hope for man in a world full of chaos and suffering. Highly recommend this book to anyone.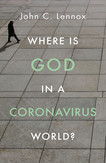 "Excellent Necessary and Essential reading"
John Lennox writes so beautifully. It is so well crafted that it seems writing is like 'falling off a log'! It's simplicity is awe inspiring. Yet it's very logical. Any aetheists should have known better than to cross swords with him! At their peril many have made such illogical comments which Lennox has thoroughly demolished. However he says it with such politeness. We regret we would have failed to match his eloquence.
We would love to give this to so many people. But we realise that unless the reader is seeking truth, like many other books that combines Evangelism and Apologetics, its point is missed. Let us hope and pray that in some cases that they do come to Christ. In the writer's opinion, as a Christian, it provides one with a very good defence for one's belief.
This is a book to not only cherish but also to think hard about. Then what he is saying we need to talk to each other about. Isn't it inspirationally written? It's revelation as well.
Another special feature is its Biblical quotes. It's littered with them.
Maranatha,
A & E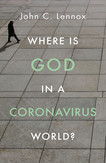 "Excellent book"
Book was good & arrived on time. Purchased a few books with The Good Book Company and always found their service exemplary
"Relevant and helpful"
(Review written for 'Where is God in a Coronavirus World? (ebook)')
Once again John Lennox thoughtful but gracious approach is spot on. Such a helpful book for Christians and an easy, helpful book to give to non Christian or seeking friends. So much logical but compassionate thinkong explored based on knowledge not just another opinion.Its small and easily read and digested by any thinking person wondering their way through this global pandemic and offering real hope .
Buy it and give it to others.
"Excellent Book"
(Review written for 'Where is God in a Coronavirus World? (ebook)')
Plenty of things to think about in this short book. An really useful review of how Christians have influenced the world positively during previous epidemics and also great pointers to how we can demonstrate the power of the gospel during this pandemic.