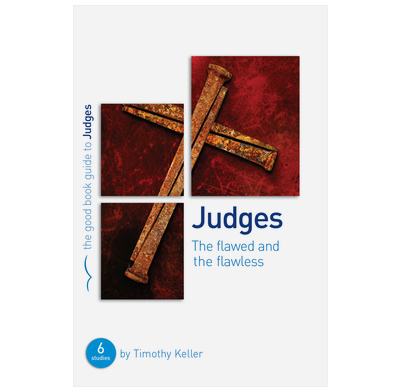 Judges: The flawed and the flawless
ebook
6 studies for individuals or groups
Timothy Keller shows us the flawed heroes of Judges—and how they point us to the flawless hero, Jesus.
Part of the Good Book Guides series.
This six-study guide by Timothy Keller will show users how this dark, difficult period of history points us to the wonderful message of the gospel.
Judges takes us to a time of murder and massacre, immorality and unfaithfulness. But it also reveals to us the God of mercy and long-suffering, who rescues his people time and again. And it points us to his greatest rescue, through Jesus Christ.
The flawed and the flawless is designed to work alongside Judges For You, Timothy Keller's expository guide to Judges. His clarify and insight will help anyone exploring this challenging, yet thrilling, Old Testament book.
FAQ for using digital Good Book Guides
Can I print the PDF?
Yes, for your own personal use.
Can I share the PDF with other members of my home group?
No, each member needs to buy their own copy.
Can I share individual studies with my home group?
No, each member needs to buy their own copy.
Can I buy copies for my group members and email it round?
Yes, once you've purchased enough copies for each group member, you can download the file and email it directly to them. Please ask them not to distribute further.
Is there a discount for buying a group license?
Yes, bulk discounts are available and reflected in your basket.
Contents
Introduction
Why study Judges?
Timeline
1. A shaky start (1 v 1 – 3 v 6)
2. Othniel, Ehud, Deborah: Expect the unexpected (3 v 7 – 5 v 31)
3. Gideon: The dangers of success (6 v 1 – 8 v 31)
4. Abimelech and Jephthah: Dark times (8 v 32 – 12 v 15)
5. Samson: A shadow in the darkness (13 – 16)
6. "Israel had no king" (17 – 21)
Leader's Guide
Specification
| | |
| --- | --- |
| Author | Dr Timothy Keller |
| Format | eBook |
| First published | June 2020 |
| Language | English |
| Pages | 80 |
| No. of studies | 6 |
| Publisher | The Good Book Company |
Other information
The Good Book Guides are easily the most consistently faithful and helpful small group workbooks.
- Rachel Brabner, Conference Manager, The Proclamation Trust