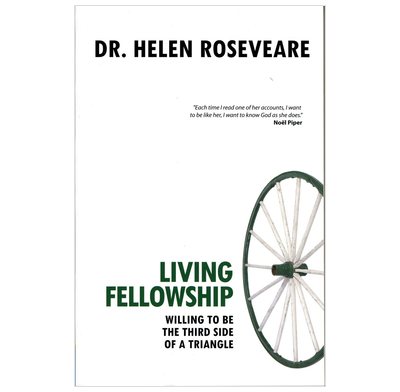 Living Fellowship
ebook
Willing to be the third side of the triangle
"God is the hub of our wheel", states Helen Roseveare, "and we are the spokes reaching out to the rim of the world."
Living Fellowship examines the true meaning of biblical koinonia as a dynamic relationship between God, ourselves and others.
True fellowship will involve submission, service, and suffering. Taking each theme in turn, Helen Roseveare draws on the teaching of Scripture and personal experience to show the practical outworking of God's invitation to us to share in a relationship with Him.
Contents
Preface
Prologue
The Peace of the Fellowship of the Trinity
Part One: Our Fellowship with God
1 Our Relationship with God: the Hub
2 The Yoke: The Practice of our Relationship with God
Part Two: Our Fellowship with Others
3 Our Relationship with Others: the Spokes
4 The Towel: The Practice of our Relationship with Others
Part Three: God's Invitatioin to Share in the Fellowship of His Sufferings
5 God's Relationship with Others: The Rim
6 The Cup: The Practice of the Fellowship of Christ's Sufferings
Epilogue: The Peace of the True Fellowship in the Church
Specification
| | |
| --- | --- |
| Author | Helen Roseveare |
| ISBN | 9781845509545 |
| Format | Digital Download |
| Language | English |
| Publisher | Christian Focus |