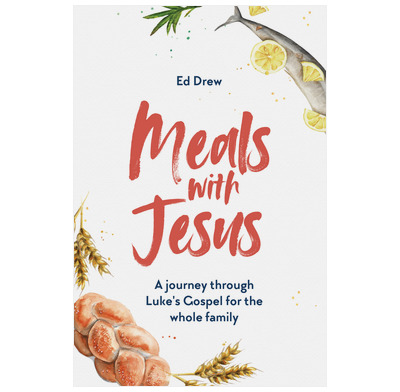 Meals With Jesus
ebook
A Journey Through Luke's Gospel for the Whole Family
Encounter Jesus in the pages of Scripture with these easy-to-use 10-minute daily devotions for families.
Encounter Jesus in the pages of Scripture with these easy-to-use daily devotions for families.
These 34 family devotions in Luke's Gospel look at nine meals that Jesus shared with people. As you read these passages, your children will be transported to the dinner table alongside Jesus. They will be able to ask their deepest questions and hear Jesus speak. Your children will see for themselves who Jesus really is and why they can trust him.
Designed to be easy to lead (even if you only have 10 minutes), these devotions are an achievable joy, not an unrealistic burden. There are different sets of questions for 3-4s, 5-7s, 7-12s, teens and even parents!
These studies can be enjoyed at any time of year, including during the run-up to Easter.
Ed Drew is the author of the best-selling "The Wonder of Easter'" and the Founder of Faith in Kids, a charity supporting children's-ministry workers and parents as they help children engage with Jesus through the pages of Scripture.
Contents
Introduction
What You Can Expect
Bible Timeline
34 Family Devotions
Specification
| | |
| --- | --- |
| Age range: | 3 - 12 |
| Author | Ed Drew |
| ISBN | 9781784985905 |
| Format | eBook |
| First published | January 2021 |
| Language | English |
| Pages | 128 |
| Publisher | The Good Book Company |
Other information
Christians are not primarily about an institution, a religion, a habit or a set of behaviours. We are about Jesus Christ. As we sit with him at the dinner table, we see who he is: his decision-making, his compassion and his bravery. When we sit with him, we meet the man we spend so long talking about. As we look him square in the eye, we get the chance to make the biggest decisions of our lives. What do we think of him? Do we like him? Do we trust him? Will we dare to follow him?
There will come a day, if it has not already happened, when our sons and daughters will not take our word for it. They won't just do what their parents did before them. They need to hear it for themselves—the whole story—so that they can make their own decisions. With these studies your family will have the chance to look Jesus in the eye, to ask their deepest questions and to hear him speaking to them.