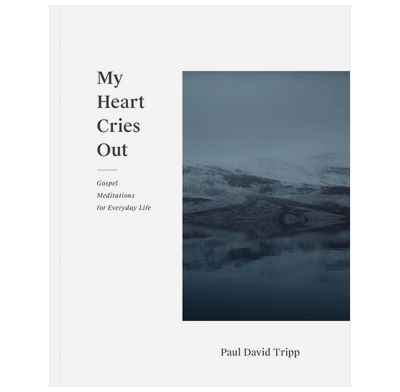 My Heart Cries Out
Gospel Meditations for Everyday Life
120 personal meditations on God's grace in the trials of life
My Heart Cries Out is a visually inspiring devotional from best-selling author Paul David Tripp. 120 poetic meditations are laid across page spreads of beautiful photography and paired with a Bible verse and reflection questions to inspire your devotional readings.
"My hope is that this volume will help you to see the Savior more clearly, to understand his grace more deeply, to confess your struggle more honestly, to worship him more fully, and to find in these meditations the motivation to continue to follow the Savior even when he's leading you into unexpected and hard places." —Paul David Tripp
Best-selling author Paul David Tripp invites you into his personal reflections on his experience of God's ever-present grace through the ups and downs of his life. He shares his celebrations, disappointments, cries for help, confessions, and confusions in the form of 120 meditations that were written over many years through various joys and struggles.
Vulnerable yet pastoral and wise, these meditations in the form of verse showcase how God's amazing grace intersects with the mundane, unexpected, messy, and beautiful moments of everyday life.
Contents
Preface
1. Hope
2. First
3. But I Can't
4. But Never
5. Hard Moments
6. Everyone Preaches
7. Unfailing Love
8. Like You
9. Not Like David?
10. Weak (1)
11. One Thing
12. The Rejection of Rejection
13. The Wrong Guys
14. Beauty
15. Somebody Else
16. You Are
17. Forgetful
18. Identity Amnesia
19. Too Much
20. Celebration
21. Something in My Hands I Bring
22. Not Always
23. No Question
24. Mercy Prayer
25. Rest
26. When God Is Glad
27. Fearless Forever
28. Hearts at Rest
29. Here
30. In the Way
31. Traces
32. Weak (2)
33. A Light in His Hands
34. The Good Life
35. Black Friday
36. The City
37. Immanent Sovereignty
38. Spiritual Schizophrenia
39. Grace
40. Tired
41. Nathan's Legacy
42. Wanting
43. Run and Hide
44. Boast in You
45. Judgment Day
46. The Worship of Another
47. Two Words You Never Want to Hear
48. Moral Vulnerability
49. Need
50. Walk Away
51. The Shoulders of Jesus
52. Tough Moments
53. Secret Wish
54. Awake Again
55. God's Pleasure
56. Thankful
57. Legacy
58. Revelation
59. Saving Grace
60. Afraid
61. Theology
62. Romans 7
63. Uber Music
64. By Myself
65. Psalm 73 (Remix)
66. Why I Hate to Wait
67. Family Forever
68. Safe
69. Me and Mine
70. Set Free
71. You Chose
72. Eavesdrop on Eternity
73. Functional Blindness
74. My Calling
75. The Swindle
76. Salt and Fire
77. Good and Angry
78. Joy
79. Rescue the Perishing
80. The Quest
81. Hoping for a Broken Heart
82. Time
83. The Holy of Holies
84. Goodness
85. Under Attack
86. Wait and War
87. No More "If Only"
88. The Dance of Redemption
89. Life View
90. Broken-Down House
91. To Be You
92. Sign Beauty
93. You Are Not Like Me
94. The Theology of Beauty
95. Light and Darkness
96. Listening to Luther
97. Psalm 47 (Remix)
98. The Wisdom of Pain
99. Ready, Willing, and Waiting
100. Days of Beauty
101. My Story
102. Surrender
103. Watch Out for the Flesh Eaters!
104. A Matter of the Heart
105. Sacrifices
106. Not Yours
107. Grace Comes Down
108. Temptation
109. Your Law
110. Sleep
111. You're Not
112. This One
113. Why Bother?
114. Dissatisfied
115. You Came!
116. Death of Death
117. Feed on You
118. What You Want
119. Wait
120. Forevermore
Previously Published Poems
About the Photographer
Photo Index
Scripture Index
Specification
| | |
| --- | --- |
| Author | Paul David Tripp |
| ISBN | 9781433556814 |
| Format | Paperback |
| First published | October 2019 |
| Dimensions | 190mm x 241mm x 18mm |
| Language | English |
| Pages | 256 |
| Publisher | Crossway |