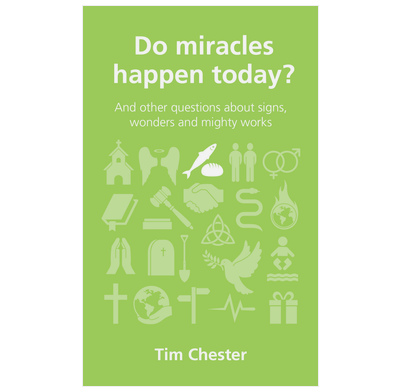 Do Miracles Happen Today?
ebook
And other questions about signs, wonders and mighty works
An engaging and accessible guide to the Bible's teaching on miracles and whether they happen today.
Part of the Questions Christians Ask series.
An engaging and accessible guide to the Bible's teaching on miracles and whether they happen today.
Many extraordinary things happen in the Bible. People walk on water. People touch handkerchiefs and are healed. People disappear into the sky. Did these events really happen? What was their purpose?
And do miracles happen today? How do we respond if someone says they've seen a miracle happen? Should we hold healing services? What can I say to a child about praying for healing? How should we react when prayers for healing aren't answered?
In this warm and accessible book, Tim Chester looks at the Bible's view of the existence and purpose of miracles and gives a careful and balanced view on whether healings and other miraculous things happen today.
It will help Christians to explore these questions and others regarding miracles, signs and wonders, and know how to pray.
Includes additional questions on:
• Why did Jesus tell people not to tell others about his miracles?
• How should I respond when I hear a claim that a miracle has happened?
• Should we hold healing services?
• What can I say to a child about praying for healing?
Questions Christians Ask are short, readable books which clearly explain how the Bible answers the tough questions Christians are asking.
Contents
Introduction: Can my friend be healed?
1. Did miracles happen then?
2. Do miracles happen today?
3. Why are there fewer miracles today?
4. What are the greater miracles promised by Jesus?
5. Can I pray for a miracle?
Conclusion: Miracles that point to the truth
Specification
| | |
| --- | --- |
| Author | Tim Chester |
| ISBN | 9781909559707 |
| Format | eBook |
| First published | March 2020 |
| Language | English |
| Pages | 96 |
| Publisher | The Good Book Company |
Graham Beynon
Minister, Grace Church, Cambridge; Director of Independent Ministry, Oak Hill College, London
In an area of great confusion Tim Chester provides compelling arguments and clear guidance. Thoughtful, careful and caring, this little book will be immensely helpful to all who read it.
Elizabeth McQuoid
Writer and Commissioning Editor, Keswick Ministries
This short book packs a punch! Tim Chester tackles our questions about miracles honestly and biblically, challenges our assumptions, and leads us to a God who is even bigger than we imagined.
Jonathan Dodson
Lead pastor, City Life Church, Austin, Texas; author, Gospel-Centered Discipleship, Here in Spirit, and Our Good Crisis: Overcoming Moral Chaos with the Beatitudes
Tim Chester has written a profoundly helpful book on miracles. As a pastor I am frequently asked if we should pray for miracles, why we don't see more of them, and what to do when God doesn't grant a miracle. This book answers all of these questions but does more. Its compelling focus on Jesus orders miracles beneath the Miracle-worker himself in a way I've not seen before. Refreshing, insightful, thought-provoking and hand-out worthy!
"Bible based, sensible and compassionate"
(Review written for 'Do Miracles Happen Today?')
Such a great little book full of God's wisdom from the bible regarding this topic.