Free extras
Specification
| | |
| --- | --- |
| Age range: | 5 - 11 |
| Author | Carl Laferton, Catalina Echeverri, Lizzie Laferton |
| ISBN | 9781784984632 |
| Format | Calendar |
| First published | February 2020 |
| Dimensions | 210mm x 297mm x 5mm |
| Language | English |
| Pages | 4 |
| Publisher | The Good Book Company |
What an idea! Use this to walk your family through the big story of the Bible to prepare for Easter. Let's do it!
I'm always looking for fresh resources to help my children engage in the story of scripture and this devotional hits all the right notes. With simple language, engaging questions, clear truths, and a realistic timeframe (this is key!), this is a truly wonderful resource for even the busiest parents to help their children understand the power of the resurrection and God's perfect plan.
It's hard for me to believe, but one of my favorite children's books just got better. The Garden, The Curtain, and The Cross is both an outstanding introduction to the Christian faith and a soul-stirring encouragement to those who already believe. This devotional guide anticipates thoughtful questions, equips you to discover the answers, and presents the subject manner in a worship-full tone.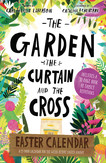 "A fun family resource that helps kids think more about how Easter fits into Gods plan"
Our family of four (age 7 down to age 3) enjoyed this Easter countdown calendar. The younger ones opening the doors and engaging with the brilliant art work (taken from the book) and listening in as the older ones answered well thought out questions and prayers from the resource. The refrain (mentioned on another review) is a real strength and has stayed with them.

In places it is a little 'wordy' and the pictures behind the doors are on the small side; though we will be using again and even led the eldest to want to read the book to his skeptical Granny!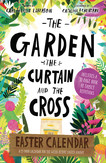 "Fabulous 2-week devotional for kids!"
This is a really excellent resource! We'd previously had the Book, but the devotional was great for the fortnight before Easter, in place of our usual bedtime Bible reading with our 4 year old daughter. But there's also lots of extension ideas and questions for older children. GIve it a go - you won't regret it!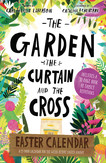 "A brilliant Easter resource"
We loved using this over breakfast as a family and it kept our young and lively boys (4 and 3 years old) really engaged. They loved opening the flaps each day and reciting the lines from the book and devotional ("Because of our sin...we can't come in. Because Jesus died, we can come inside."). A great way to help build anticipation and excitement around the Easter story.