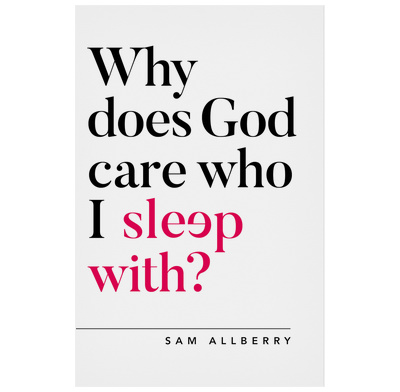 Why does God care who I sleep with?
ebook
Answers one of the biggest barriers to belief.
Part of the Oxford Apologetics series.
Answers one of the biggest barriers to belief.
Christians are increasingly seen as outdated, restrictive and judgmental when it comes to sex before marriage, cohabitation and homosexuality. In fact for many people, this issue is one of the biggest barriers for them considering Christianity.
Sam Allberry, author of many books including Is God Anti-gay sets out God's good design for the expression of human sexuality, showing that God himself is love and that only he can satisfy our deepest desires.
It is a great reminder of the Bible's positive blueprint for love, sex and marriage and ideal for giving away to people who may see this as a stumbling block for belief.
Contents
Introduction:
Not easy, but compelling
1. Love is love
2. I'm just being true to myself
3. It's just physical
4. I need to be fulfilled
5. We all need romantic hope
Conclusion
Specification
| | |
| --- | --- |
| Author | Sam Allberry |
| ISBN | 9781784985110 |
| Format | Digital Download |
| First published | March 2020 |
| Language | English |
| Pages | 128 |
| Publisher | The Good Book Company |
Clear, careful, compassionate and compelling - Sam's analysis of the sexual culture and why it matters to God is a message for every human being. Buy two. At least. You'll need them because I guarantee you won't want to pass on your own copy.
Sam Allberry writes with clarity and empathy about one of the biggest questions of our day. His honesty and sense of humour cut through the stereotypes and platitudes we might be used to hearing about sexual relationships. Here is a counter cultural voice challenging us to consider afresh the Christian Faith and ultimately a relationship with God amidst the changing landscape of culture we find ourselves in.
Given all the controversies and challenges surrounding sex I am delighted to welcome this bold, wise and sensitive treatment of the issues at stake. This is a book capable of changing opinions, altering viewpoints and, ultimately, rescuing lives. Thank you Sam Allberry!