Why is my teenager feeling like this?
A Guide for Helping Teens through Anxiety and Depression
Spiritual encouragement and practical direction for parents of teens who suffer from anxiety or depression.
Have you ever looked at your anxious or depressed teenage son or daughter and wondered, Why is my teenager feeling like this?
In this companion guide to his book for teens Why Am I Feeling Like This?, pastor and counselor David Murray offers spiritual encouragement and practical direction for parents and other adults who want to help but don't know where to start.
Structured around eighteen real-life examples, Murray provides tips for having open conversations with teens about anxiety and depression, as well as discussion questions, Bible verses for memorization, and prayers. With these tools in hand, parents and teenagers alike will be equipped to experience freedom from the chains of anxiety and depression.
Contents
Introduction: Why Is My Teenager Feeling Like This?
Who Gets Anxiety and Depression?
What Causes Anxiety and Depression?
What Can We Do about Anxiety and Depression?
1. Circular Sarah
2. Tense Tom
3. Doomed Dave
4. Imaginative Imogen
5. Panicky Paul
6. Faithless Flavia
7. Controlling Colin
8. Depressed Dan
9. Negative Nicole
10. Workaholic Will
11. Beautiful Brianna
12. Media Max
13. Friendly Fiona
14. Bullied Benton
15. Rebellious Rob
16. Perfect Peyton
17. Paralyzed Pam
18. Lonely Luke
Conclusion: Growing Freedom
General Index
Scripture Index
Free extras
Specification
| | |
| --- | --- |
| Author | David Murray |
| ISBN | 9781433570759 |
| Format | Paperback |
| First published | August 2020 |
| Dimensions | 138mm x 215mm x 12mm |
| Language | English |
| Pages | 160 |
| Publisher | Crossway |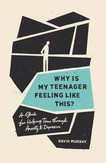 In a day and age when many parents, even Christian ones, feel as though they are ill-equipped to parent their children facing all sorts of issues, along comes David Murray to give us a powerful parental tool in shepherding our children who battle anxiety and depression. With this book (and the accompanying student version), parents no longer have to be or feel ill-prepared to navigate such overwhelming issues. I just wish I had this book years ago.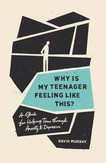 Parenting is good for our prayer lives, we find, especially when sons and daughters are navigating the many anxieties that seem to coincide with the teenage years. David Murray has the practical experience and spiritual wisdom to help. Based in biblical truth and at the same time sensitive to the psychological and physiological complexities of human emotions, Murray's companion guides tell real-life stories that empower teens and their parents to understand their feelings, care well for one another, and take concrete steps toward healing together.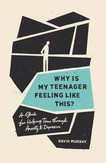 In this book, David Murray comes alongside parents who may be willfully naive about or find themselves completely overwhelmed by how to help their child deal with depression, offering understandable explanations of the issues and equipping them for important conversations.