Spiritual Healthcheck
16 steps to a thriving Christian life
16 short devotions helping Christians to see where and how they can grow in their faith and joy.
We all need a spiritual healthcheck from time to time. These 16 devotions will help you to see where and how to grow in faith and joy.
This book will: help you to diagnose how you're (honestly) doing in your faith; give you the "vitamins" you need—God's ways of helping you to thrive; and point you to the one who enables you to really grow—the Holy Spirit.
Give yourself a spiritual healthcheck and ask for God's help to make you more like Christ. There's no better way to start the new year.
This title is available in braille, large print or on DAISY audio CD by contacting Torch Trust's Client Services team on 01858 438260.
Contents
1. What is spiritual health?
2. Diagnosis: In love?
3. Diagnosis: Grateful?
4. Diagnosis: Excited?
5. Diagnosis: Committed?
6. Diagnosis: Godly?
7. Take your vitamins
8. Learning to pray
9. Health food
10. Church health
11. Christ in creation
12. The gift of suffering
13. The family doctor
14. The grower of fruit
15. The giver of gifts
16. Healthy living
Extras
Specification
| | |
| --- | --- |
| Author | Carl Laferton |
| ISBN | 9781784981518 |
| Format | Paperback |
| First published | November 2017 |
| Dimensions | 110mm x 178mm x 4mm |
| Language | English |
| Pages | 64 |
| Publisher | The Good Book Company |
Also available in
Everyone needs a check up every now and then and Carl gives us a terrific little spiritual health check here. It helps us see where we may have drifted and then balances that out with Biblically helpful encouragement to get back on track. Here are helpfully penetrating questions and a lovely encouragement that although there are no quick steps to a thriving Christian life, we have all we need in Jesus and the ordinary means of grace.
Carl Laferton has provided a gift to the church in encouraging believers to see how God is working and providing hope for change. Like many believers, I have often wondered if I am growing as a Christian. The daily pressures of life, coupled with my own sin, can make it difficult to see the work that God is doing. "Spiritual Healthcheck" is a needed tool designed to help believers diagnose and treat their own spiritual health. Great to read with a friend or read it on your own.
In this helpful and highly readable book Carl Laferton offers a spiritual healthcheck suitable for use by individuals, small groups or whole churches. Drawing on themes from across the Bible, and with the gospel at its heart, here is a book that diagnoses and prescribes offering realistic and practical encouragements for spiritual health and vitality.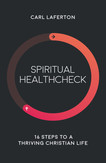 "Very challenging"
We are studying the book as a home group and are finding it very challenging. We thought we were doing OK but the searchlight of the questions shows us how much further we have to go.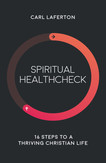 "Inspiring and practical"
This little book is a really helpful resource that looks at our personal spiritual health in a fresh, inspiring and practical way. The structure lends itself to a personal devotional time or use in a small group. I found the short and to-the-point commentary really helpfully as it took familiar passages and themes but opened up a new dimension for me. It came recommended to me and I am very happy to recommend it on!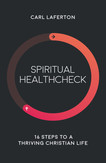 "A must read for Christians to apply to their lives as they follow Jesus."
I used this last January when it was in the Explore notes and found it so helpful and practical and bought 3 copies of the book for friends when it was published. A great book to help us in our walk with God.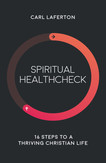 "A must read for anyone needing encouragement to keep going in the Christian life."
I found this spiritual checkup so good and helpful when it was in the Explore notes last January so was delighted to see it published in book form. I bought three to give to friends and they're pleased as like everyone we all struggle at some time in our walk with God. I highly recommend this book which reminds us of what the Lord Jesus has done for us and encourages us to keep going in a clear, practical and helpful way.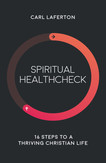 "Excellent"
Just bought this and received it in the post. Unpacked it, thought, "that looks interesting" and then got so caught up in it I have in fact skimmed through it cover to cover. Looks terrific! Certainly one for church ministers to apply to themselves and give away in congregations... Really helpful, concise and clear.