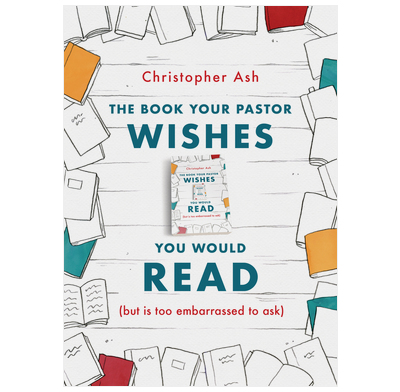 The Book Your Pastor Wishes You Would Read
ebook
(but is too embarrassed to ask)
Caring for your pastor and the difference it makes.
Caring for your pastor and the difference it makes.
What do you think about your pastor? Do you chew over his sermons and wonder if they are clear and helpful? Do you feel he spends enough time with you? In fact, do you ever catch yourself wondering what he does all day?
The truth is, often we think, "What can my pastor do for me?" Far less often do we think, "What can I do for my pastor?"
Seasoned former pastor, Christopher Ash, urges church members to think about pastors not just in terms of what they do – how they lead and pray and preach and teach and so on – but about who they are. He encourages us to remember that pastors are people and to pray for them as they serve us.
Paradoxically, caring for our pastor will be a blessing to us as well as to them, and create a culture of true fellowship in our church family.
Contents
Introduction
The pastors' Hall of Faith
Why look after your pastor?
Seven virtues of church members that impact our pastors:
1: Daily repentance and eager faith
2: Committed belonging
3: Open honesty
4: Thoughtful watchfulness
5: Loving kindness
6: High expectations
7: Zealous submission
Somebody needs to really know your pastor!
Conclusion: Where do we go from here?
Specification
| | |
| --- | --- |
| Author | Christopher Ash |
| ISBN | 9781784984328 |
| Format | Digital Download |
| First published | May 2019 |
| Language | English |
| Pages | 128 |
| Publisher | The Good Book Company |
I was delighted that Christopher Ash's new book unpacks the overlooked exhortation of Hebrews 13 v 17, namely, that it is the responsibility of the sheep to make the shepherd's work a joy and not a burden. Christopher lays out seven ways to do so. I know of no other book like this—it is a "charge to the congregation" that is more specific and practical than anything else you will find in print.
Too many pastors today are discouraged, isolated, and weary, and it shows in the alarming rate of drop-out from pastoral ministry. In this book, Christopher Ash has pooled his extensive experience and wisdom to produce a book that could help make a real difference. If church members and leadership teams can read this book, we could help more pastors persevere and thrive in their ministry to us.
Christopher Ash has served churches well for decades now, at Cornhill, in a local church, through his writings (how about that Job commentary?!). Now he provides a most unusual service. A modern take on an old form—the Church Member's Handbook—Christopher has asked the simple question, "How can I love and serve my pastor, in a way that will do him, his family and our church good?" The answer is straightforward, biblical and life-giving. Careful and loving, this in fact IS a book your pastor wishes you would read (but we ARE too embarrassed to ask you). Thanks, Christopher!
This book will help you obey one of the most overlooked New Testament commands
Jonny Ivey, Heirs Magazine, July 9th 2019
This book will help you have the mindset of Christ which swaps the question, How is my pastor meeting my needs? for, How could I better serve my pastor?... continue reading

I honestly think that if every church member read this book our churches would be healthier
Alistair Chalmers, Chalmers
Why not order a few copies and meet with a smaller group of member in your church and discover together how you can care more for your Pastor.... continue reading


"Very useful"
(Review written for 'The Book Your Pastor Wishes You Would Read')
As a retired pastor I found this particularly interesting. I think my present church is pretty good at looking after our pastor but I know many that are not!

"A book to make a difference"
(Review written for 'The Book Your Pastor Wishes You Would Read')
Here is a book that really does have the potential to change churches for the better. Concisely written, realistic and clearly thought through, Christopher Ash focuses on the practical things that ordinary church members can do to improve their Pastor's effectiveness and happiness, and make him more able to fulfill his calling. I shall certainly share it with friends at church, and I suggest it could very usefully become the basis for a small group discussion outline or a DVD led discussion series, along the lines of 'Six Steps to Loving Your Church'. Publishers - please have a think about that.

"Compulsory reading for all church members"
(Review written for 'The Book Your Pastor Wishes You Would Read')
A challenging little book that should be compulsory reading for all church members. Whilst the examples were, at times, rather stereotyped, the lessons were painfully accurate. I realise that I don't pray often enough for our clergy. We expect them to be loving and tolerant towards us even when we treat them with disrespect. We reviewed this book in a service (whilst the vicar is on sabbatical!) encouraging everyone to read it!

"Excellent"
(Review written for 'The Book Your Pastor Wishes You Would Read')
I read it in 3 hours. I couldn't put it down. It is now making the rounds around the church members. For some it will be a reminder of what they know and for others it will be eye opening!

"Spot On"
(Review written for 'The Book Your Pastor Wishes You Would Read')
As a pastor who has experienced my share of guilt in the ministry, this book was a God-send. I'm just now beginning to realize that not everything that goes "bad" in the church is the pastor's fault. Although it is true that I am too embarrassed to send this book to those whom God has entrusted into my care, I am not too embarrassed to give this book to parishioners of other churches, so that my fellow pastors can benefit. (The only drawback I found in this book was the ten fictional examples of pastors in the first chapter: None of the ten were bi-vocational - balancing a 40+ hour week job with the responsibilities of ministry).

"Absolute gold"
(Review written for 'The Book Your Pastor Wishes You Would Read')
"Why would your pastor be embarrassed to ask you to read this book? Because it tells you how to care for them." As a member of a church, I genuinely want to care for my pastor/s (or whatever name you give them - vicar, minister etc) so I bought this book hoping to get a few ideas about how to do that.
I didn't just get a few ideas!!!! I'm not a huge reader but I read this gem in one 2.5 hr sitting. Absolute gold!!!
Although I know what a pastor does (it tells me in the Bible!), I'd not really, really thought about all the things a pastor does for their congregations! Who on earth would want to be a pastor?!!! What a massive job! Huge responsibility! This book has so many real life examples of pastoral ministry in action - the highs and the lows. What a job! I'm so thankful for those who have 'pastored' me over the years and reminded of the real need to pray for those in pastoral ministry.
Really struck that I, as a church member, really do have the power to make my pastor's life a joy or just a discouraging, dismal day to day experience. God really challenged me in ways I was not expecting as I read through each chapter. My attitude towards things; the way I do things; the way I don't do things that I know I should do and so on.
Whatever you think of your pastor (good or bad), I think this is such a great book for all Christians to read. I was left with the question, "If I did ask my pastor what sort of church member I was, would I want to hear the answer?" What a challenge!