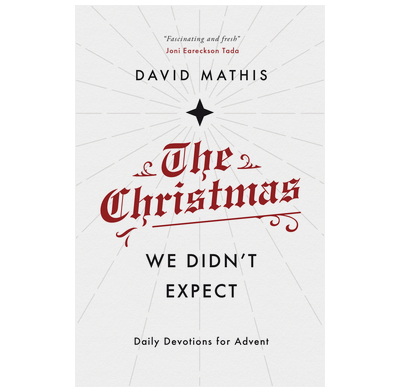 The Christmas We Didn't Expect
ebook
Daily Devotions for Advent
Reflections for Advent that help us to adore Jesus—the one who came to save us and make our futures certain.
Life is full of unexpected twists and turns and this has been particularly so in 2020.
But the most unexpected and significant event in the history of the world actually happened over 2000 years ago when God himself became one of us in the person of Jesus Christ.
These Advent reflections, written by David Mathis, help us to lift our eyes to wonder of the incarnation and worship the one who came to save us and make our futures certain.
Be amazed once more by the unexpected details of Jesus' unique birth and saving work with these short daily devotions and prayers, and renew your worship of our humble, generous and loving Saviour.
Written by David Mathis, author of Habits of Grace, executive editor for desiringGod.org and pastor at Cities Church in Minneapolis/St. Paul.
Contents
Preface: A Season of Waiting
Introduction: God Came Down
1. A Christmas Carol for the Weak
2. The Eternity before Christmas
3. The Glory of His Virgin Birth
4. What Child Is This?
5. The Word Became Flesh
… and 19 more
Specification
| | |
| --- | --- |
| Author | David Mathis |
| ISBN | 9781784985547 |
| Format | eBook |
| First published | October 2020 |
| Print size | 0.00000000pt |
| Language | English |
| Pages | 160 |
| Publisher | The Good Book Company |
Joni Eareckson Tada
Joni and Friends International Disability Center
Christmas contains so many delightful surprises, whether presents tucked secretly under the tree or much-loved visitors arriving at your door with arms full of gifts. These delights pale in comparison, though, to the astounding surprises you'll discover in The Christmas We Didn't Expect. David Mathis reveals fascinating twists and turns on every page of the Christmas story. There is always something new to learn about Christ's birth, and this fresh collection of insights truly delivers. My husband, Ken, and I are already planning to use this remarkable book for our devotional reading this Christmas—and we urge you to join us!
Tim Challies
Blogger and Author
Christmas is a time in which we tend to find joy in traditions. But traditions are not static, and we benefit from sometimes examining and updating them. Perhaps it is time to update your personal or family traditions with this wonderful series of Advent devotionals. They are fresh, applicable, and deeply biblical. They may just become a precious part of your Christmas tradition this year and in the years to come.
Sinclair Ferguson
Author and Ligonier Teaching Fellow
No Advent calendars for sale this Christmas can offer what lies behind the windows David Mathis opens in The Christmas We Didn't Expect. True to its title, it is full of surprises. So, buy it, and carefully unwrap each Advent treat (no more than one a day, or you may spoil your appetite). Then let it melt slowly on your spiritual taste buds and enjoy what Isaiah (the Christmas prophet) called 'rich food'