The Cross in Four Words
Discover how the cross delivers everything the world needs most.
Freedom, forgiveness, justice, and purpose. We long for them in our lives and in the world. The cross delivers them!
Yet sometimes we are so familiar with the cross that it loses its impact on us. We forget that Jesus' death on the cross and his resurrection are the most important events in human history and our lives. The cross is the fulfillment of God's salvation plan, promised from the dawn of time. It is central to the Bible, central to our faith, and central to the meaning and purpose of our lives.
This foundational book looks at passages from both the Old and New Testaments to sum up the victory of the cross in four words: freedom, forgiveness, justice, and purpose, and what that means for us personally.
Marvel at the cross afresh and be moved to love and serve the Lord Jesus with renewed zeal and joy.
This short yet profound book is a very useful discipleship tool. It can be read individually, in pairs, or in small groups.
Contents
Introduction (Richard Coekin)
1. Freedom (Kevin DeYoung)
2. Forgiveness (Yannick Christos-Wahab)
3. Justice (Kevin DeYoung)
4. Purpose (Richard Coekin)
Extras
Specification
| | |
| --- | --- |
| Author | Kevin DeYoung, Richard Coekin, Yannick Christos-Wahab |
| ISBN | 9781784985226 |
| Format | Paperback |
| First published | June 2020 |
| Dimensions | 127mm x 198mm x 5.2mm |
| Language | English |
| Pages | 96 |
| Publisher | The Good Book Company |
If we forget the cross—or fail to understand our desperate need of its reconciling work—we will lose our joy. The Cross in Four Words redirects our gaze to "Christ crucified," reminding us of the love that bore our sin so that we might experience true freedom, forgiveness, justice, and purpose. This helpful book will refresh your heart and renew your mind in the wonder of such a great salvation.
Whether you find the cross of Christ a bit of puzzle or you want your heart to be filled with wonder all over again, The Cross in Four Words is a great book to go to. It's short and simple, but it takes us deep into the heart of the mystery of God's reconciling love.
This is a really helpful book that I will be sharing widely. I read it in a single sitting and took a lot of notes.
The Cross in Four Words
Josh Olds, Life Is Story, June 17th 2020
The Cross in Four Words is a simple, compact volume of just 91 pages meant to introduce readers to the core of the Gospel message. Kevin DeYoung, Richard Coekin, and Yannick Christie-Wahab come together for four essays that take readers to the heart of the cross.... continue reading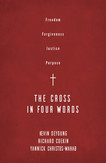 THE CROSS IN FOUR WORDS
JONNY IVEY, Heirs Magazine, June 16th 2020
The Cross in Four Words is the smallest book I've found which lays out how God doesn't change; across the Bible, God simply takes his plans for his people and scales them upward.
Oh, and those four words? Freedom, forgiveness, justice and purpose.... continue reading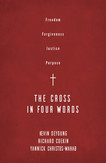 Book Review: The Cross in Four Words
Aaron Lee, Musicgoon, June 2nd 2020
Can you tell the Gospel story in a clear and simple way? In The Cross in Four Words, Kevin DeYoung, Richard Coekin, and Yannick Christos-Wahab help you see God's plan of salvation and enjoy the true freedom, forgiveness, justice, and purpose which we find only at the cross.... continue reading