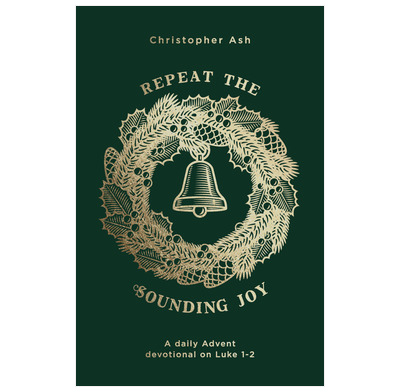 Repeat the Sounding Joy
ebook
A daily Advent devotional on Luke 1 – 2
24 Advent readings that bring the joy of Christmas to life
In this Advent journey through Luke 1 – 2, Christopher Ash brings these familiar passages to life with fresh insight, colour and depth.
As you soak up the Scriptures, you'll experience the joy of Christmas through the eyes of those who witnessed it first hand—from Mary and Elizabeth to the Shepherds and Simeon. Celebrate afresh the arrival of the long-awaited Messiah in history, and learn what it means to wait for him with joyful expectation today.
Each day's reading includes a short reflection, a prayer, a carol, and space to journal, helping you to treasure the Lord Jesus in your heart in the hectic run-up to Christmas.
Contents
Introduction
24 readings from Luke 1 – 2:
1. A reassuring certainty (1:1-4)
2. Poignant hope (1:5-7)
3. Coming home (1:8-17)
4. Resting on a word (1:18-25)
5. Good government at last (1:26-33)
6. Conceived of a virgin (1:34)
7. A powerful overshadowing (1:35)
8. A wonderful faith (1:34-38)
9. Jumping for joy (1:39-45)
10. The humble lifted high (1:46-55)
11. Rescue from terrible enemies (1:56-75)
12. An ancient promise remembered (1:72-73)
13. Light has dawned (1:76-80)
14. The shadow of the cross (2:1-7)
15. Victory in weakness (2:8-12)
16. Glory and peace (2:13-18)
17. Treasuring and pondering (2:18-20)
18. Jesus! (2:21)
19. Waiting with hope (2:22-25)
20. Good news for the world (2:26-32)
21. A sword for the soul (2:33-35)
22. Active waiting (2:36-37)
23. Waiting together (2:38)
24. The silent years (2:39-40, 51-52)
Specification
| | |
| --- | --- |
| Author | Christopher Ash |
| ISBN | 9781784984601 |
| Format | Digital Download |
| First published | October 2019 |
| Language | English |
| Pages | 160 |
| Publisher | The Good Book Company |
Christopher Ash shows us the refreshing, startling realities that lie behind our Christmas festivities. Whether you're familiar with the story of the birth of Jesus or yet to be convinced it has any real relevance to life today, this will make you sit up, think again, and give thanks for these events that happened so long ago. I'm going to enjoy using it.
These devotionals are digestible: they will go down easily in the busy days of Advent. They are profound: they will go down deep. Most wonderfully, they are word-filled: they will feed us with the truth and beauty of the Scriptures, and of the Savior whose advent we celebrate.
In this delightful book, Christopher Ash takes us slowly but surely through the real story of Christmas from Luke's Gospel, reflecting with insight and warmth on its deepest meaning and enabling us to both sing and pray with greater understanding and joy. A beautiful way to prepare our hearts for Christmas.
Repeat the Sounding Joy by Christopher Ash
Alistair Chalmers, Chalmers, November 5th 2019
I've read a number of Ash's books and I always enjoy how he finds the balance between giving enough information, without making it too difficult. This book will be a great companion for you as you intentionally take time over advent to stop and think about the significance of Jesus.... continue reading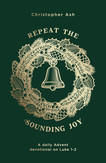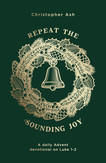 "The ideal build up to Christmas"
Christopher's notes on Luke's birth narrative gave us the ideal build up to Christmas. Fresh and profound insights flowing out of the text; crystal clear explanations centred on Luke's big points; warm and engaging encouragements to respond appropriately; the perfect length for daily readings at a busy time of year. Our whole family agreed that next autumn we should encourage everyone we know to be getting hold of a copy and inviting Christopher to journey with them throughout the month of December - to not only go through the Christmas season with joy rekindled, but to prepare for Christ's return with convictions renewed.
"Thought provoking, to the point, brief"
(Review written for 'Repeat the Sounding Joy')
I bought several copies and some of my homegroup used them, as well as my daughter and me. A really interesting, thought provoking view of the two chapters of Like. I loved the reference to a song each day, some well known, some new to me. And although I complained that the prayers were "old fashioned language" to start with, they varied so shut me up! thank you Christopher Ash
"Thoroughly recommended"
(Review written for 'Repeat the Sounding Joy')
I found this book really helpful in the busyness of the weeks leading up to Christmas. There is so much to consider in those first two chapters of Luke and I was quite sad to have finished reading it.
"Excellent Family Advent Aid"
(Review written for 'Repeat the Sounding Joy')
I purchased 5 copies of this advent study, and distributed them to various family members on December 1st. Without exception all those who followed the study for Advent were enthusiastic in their agreement it had made a difference to how we started each day and how we thought about the Christmas story. Some sang, others didn't recognise the hymns and didn't know the tunes (shameful evangelists!!), but all were blessed by their quiet time. Thank you so much, and I look forward to repeating the sounding joy next Advent.
"Loving it"
(Review written for 'Repeat the Sounding Joy')
Clear, thoughtful, simple and heart-warming. Loving it (No religiosity which my wife loves, however she is less keen on the songs!)
"An excellent gift"
(Review written for 'Repeat the Sounding Joy')
Robin Fairbairn from the Good book company gave the church several recommendations as gifts for elderly parishioners and the recently bereaved. These have been very well received, particularly by those recently bereaved! helpful.